POWELL RIVER OUTDOORS
YOUR PREMIUM FISHING, HUNTING, CAMPING & BACKCOUNTRY STORE
LOCALLY OWN AND OPERATED – PROUDLY SERVING OUTDOOR ENTHUSIASTS IN THE POWELL RIVER REGION
YOUR GATEWAY TO ADVENTURE
STORE HOURS
MONDAY – SATURDAY
9:00 AM – 5:00 PM
WELCOME TO POWELL RIVER OUTDOORS (PRO)
If you want to get the most out of Powell River and the surrounding areas, put PRO on your list. Our specialty is ensuring that people get the most out of this area. This comes naturally, due to the fact that all our staff have many years of local knowledge and hands-on experience behind them. Our store acts as a gateway to all the resources that are offered here.  Whether it be fishing, camping, or hunting, we will ensure you receive the info and equipment needed to make your stay one you'll be guaranteed to enjoy. With Powell River comes some of the best fishing you will find anywhere. Not only do we have excellent salmon fishing, we also have possibly the biggest cutthroat trout in Canada.
POWELL RIVER AREA FISHING GUIDE - 2021
Know Your Limit – Fish Within It!
SPECIES
LIMIT
MIN. SIZE
COMMENTS
Ling Cod
1
26" (65cm)
May 1 - Sept 30
Halibut
1
See Online Regulations
See current tidal licence for more details
Rock Fish
(Quill, Copper etc.)
1
Any Size
May 1 - Sept 30
Yellow Eye (Snapper)
0
-
Closed
Bocaccio
1
Any Size
May 1 - Sept 30
Cabazon
8
Any Size
Open
Chinook - Area 15-1, 15-2 & 15-3
1
26.6" (62 cm) - 31.5" (80 cm)
Starting July 15, 2022
Chinook - All other areas
See PRO Report for details
Coho
12" (30.5cm)
TBA
Dungeness Crabs
4
6.5" (16.5 cm)
Males Only
Red Rock Crabs
4
4.5" (11.5 cm)
Males Only
Oysters
12
-
-
Clams
60
-
See Regulations for Size & Species
Prawns
125
-
Release All Egg Carriers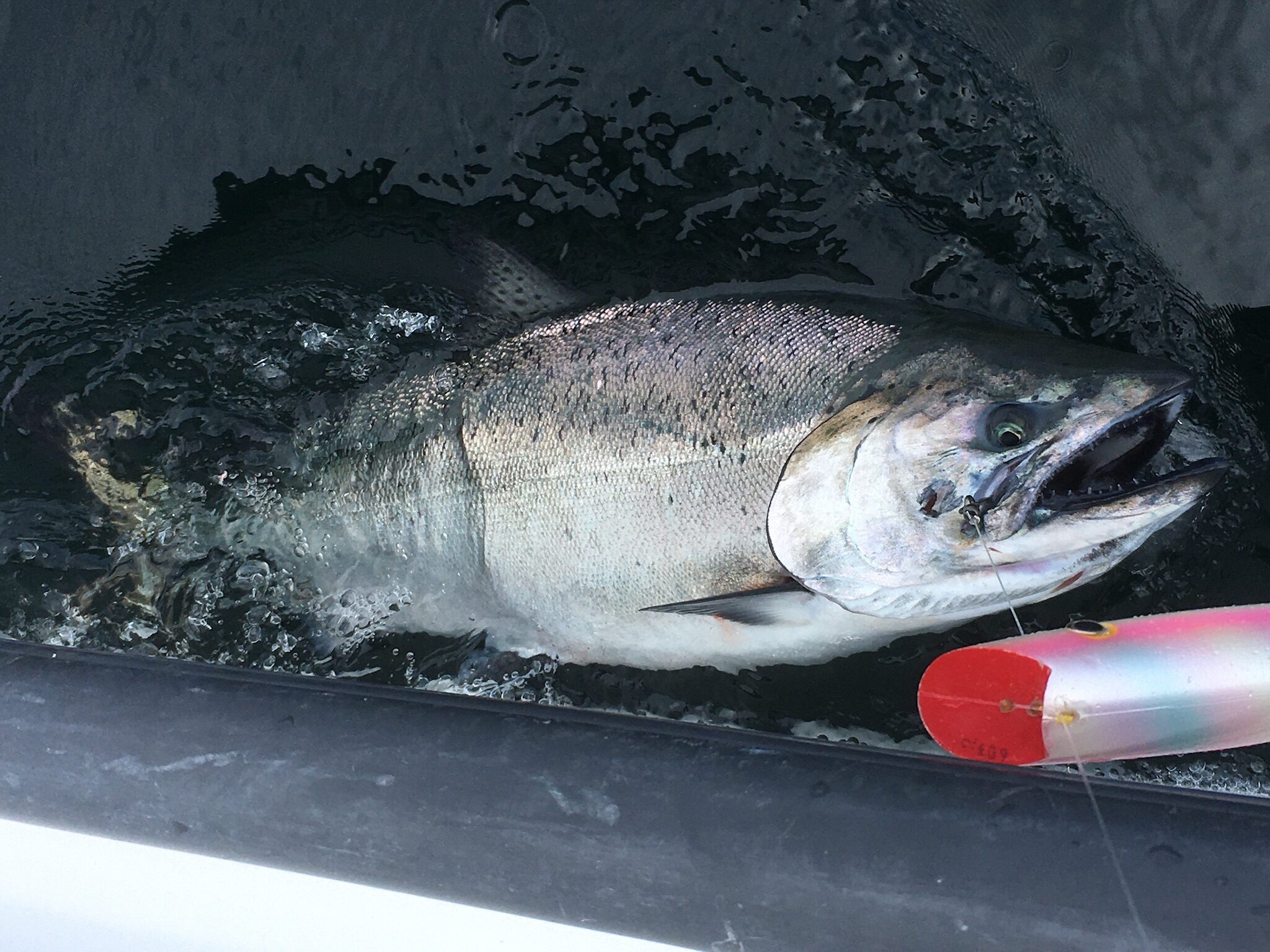 FISHING TACTICS
COD
Retrieve bottom fish slowly
Use descender to release
Both will help the survival rate.
HALIBUT
Troll bottom 2.5 mph (More Halibut – Less Cod)
Use 150-200 cable
SALMON
Troll speed 2.5 mph
Spoon leader 6′
Hoochie leader 3-4′
Cannonballs 12-15lb
Don't forget to jig
We Buy Used Fishing And Outdoor Gear
Thanks for shopping PRO
we also ship outside Powell River.
Check out the PRO Flyer! Great gifts, and gear.
THE PRO REPORT
What's Going On!
The Winter Chinook fishery is in prime time as anglers venturing out are finding out. HOT SPOTS Favada Point , Coho Point - Marshall Rock, Harwood Island, The Mill - Tla Amin, Westview. I have not had reports come in from Lund or Scotch Fr Pt- Thunder Bay however...
read more
Looking forward to the 2023 season.. PRO will be closed Monday January 2nd and back to regular hours January 3rd:)
read more
This cold snap is keeping most anglers off the water however ounce it warms up a bit it will be prime time for Winter Chinook fishing . You may still retain 2 Chinook 62cm and larger into the new year until further notice in our area and Rock fish and Ling Cod are...
read more